Online Shop with a difference
Welcome to the Online Shop with a difference.
Different because we can supply any part that you are looking for.
You simply send details and photographs to us we will attempt to sourse the part for you. Any part off of any window or door including all types of locks.
We specialise in finding obsure parts that you may have been told are unavailable. If they are indeed unavailable there is every chance there is a similar product on the market that will do the same job, If there is we will find it.
If you send as many details as possible sizes marks numbers emblems and of course photographs of every angle front back sides GBM will do the rest.
If we need more information we will let you know. Sometimes we may recognise just from a photo.
Absolutely any Windowpart or lock off of any window or door.
Euro profile Cylinders, Multi point locks, Espagnolette window mechanisms,Espag Handles, Gearboxes for windows and doors. Letterboxes, Hinges, Friction stays, Window keys,Trickle vents,Patio door locks, Patio doors runners tracks and wheels, Balance Springs, Chain openers and operators Teleflex Gearing, Padlocks and chains, Door Closers, Floor Springs and Transome Closers, All Panic Hardware and emergency exit equipment.
Send all details to our e mail address
glen@gbmdoors.co.uk
or
txt or whatsApp to
07957 890680
Also you can purchase some parts here in the Online shop.
There few products here at the moment but we will be adding a lot more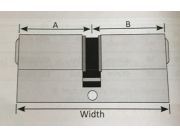 £75.00
Very High Quality Lock Cylinder for PVCU and Aluminium Doors British Standard 3 Stars Sold Secure Diamond and Secured by Design Anti Pick, Anti Drill, Anti Snap, Anti Bump Anti Pull 8 Pin Cylinder When Ordering first number is snap side Key both sides comes with ...
Variations Available: 35 35,35 40,35 45,35 50,35 55,35 60,40 35,40 40,40 45,40 50,40 55,40 60,40 35 45 40,45 45,45 50,45 55,50 35,50 40,50 45,50 50,50 55,55 35,55 40,55 45,55 60,60 35,60 40,